Welcome back to the fourth installment of our Selling Vintage A to Z series. To see previous posts in the series, click on the page at the top (or dropdown on mobile) where all the A to Z posts are handily gathered together! Today's letter is the letter D and we're discussing Decorated Tumblers.
This post has affiliate links.
Let's face it. Vintage kitchenware is hot. It's a fun category but can also be a fairly broad one so many collectors and resellers niche down. Vintage glassware is one way to go…specifically the decorated tumblers that started coming on the scene in the 1920s and 30s.
These are some of the decorated tumblers I spotted in a recent trip to an antique mall.
Some of the companies that produced these fun and colorful pieces were:
Anchor Hocking, Bartlett Collins, Federal, Hazel Atlas, Jeannette, Libbey, West Virginia and more. In the early days, decorations were done by hand but during the 1930s, various automated methods were developed. The silkscreening method was perfected and is still the main way of decorating tumblers today. The stage was set for the production of the decorated tumbler to take off!
Green and white leaf tumblers by Federal Glass offered by Nanosdollectibles on Etsy (a great shop to see more examples of decorated glassware)
And the demand was there to meet it. The decorated tumblers were now more affordable because they were mass produced and they were colorful!! Such fun. People were eating them up.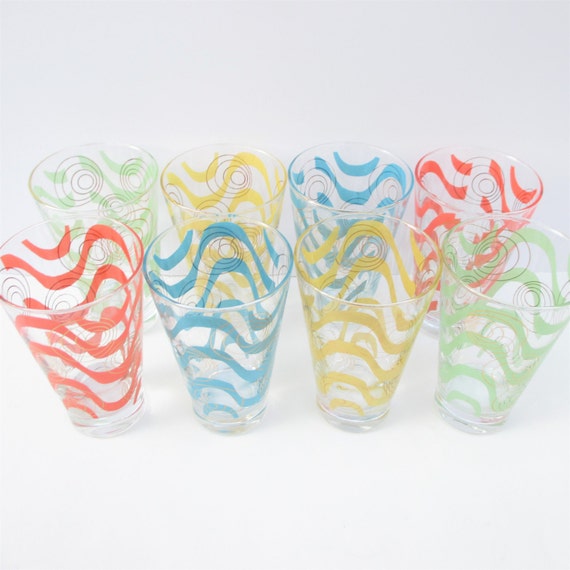 Bartlett-Collins Rhythm Tumblers by AmbassadorGrooviness on Etsy
Kraft Foods had the inspiration in 1933 to offer their cheese spread with a "premium": reusable 5 oz. glass "party glasses" in a variety of colors and designs. We know them as Swankyswigs. They continued being produced until 1958, first by Hazel Atlas, then by Bartlett-Collins. People loved having them to collect.
Swankyswigs Kiddie Kup Set by Sidetracked Vintage on Etsy
Swankyswigs Tulip Set by RobertaGrove on Etsy
And people still do. Scouring thrift stores, antique shops and the internet, they look for that last one to complete their set.
A while back in one of my thrifting adventures, I found this book, "The Decorated Tumbler".
What a bunch of eye candy!! And a very helpful reference book. The author, Hazel Marie Weatherman, has compiled full color reproductions of actual catalog pages from the different makers, so we can see pattern names as well as glassware names assigned by that maker. It includes not just tumblers, but other items produced with these designs, such as pitchers and canisters.
Here is an example from page 52.
My book landed in my reference library but you can check ebay and Amazon for your own copy.
Just a few researching/collecting tips: If you're interested in this niche for collecting or reselling, I'd suggest doing your research. Develop your eye to spot the more popular themes or subjects…anything atomic is a yes right now. Browse the book I mention above. Browse Etsy  listings. Search "Swankyswigs" and "Swanky swigs". Use "Decorated glassware". Search by makers. Go check out an antique mall.
Condition will be fairly important. Super faded pieces should probably be given a pass.
Let me know! Do you collect decorated tumblers? Have you sold any? Are you going to be on the lookout for them now? Leave a comment below.